Bridgestone Arena Concerts
2023 Concerts at Bridgestone Arena

R & B Music Experience - with Trey Songz, Tamar Braxton, Ginuwine - September 8, 2023
Rob Zombie and Alice Cooper - September 12, 2023
Disney on Ice; Find Your Hero - September 14, 15, 16, 17
Suicideboys, Ghostemane and City Morgue - September 19, 2023
Wu Tang Clan & Nas - September 20, 2023
Dave Chappelle - September 21, 2023
Avenged Sevenfold and Falling In Reverse - September 22, 2023
The Chicks and Wild Rivers - September 23, 2023
SZA - September 24, 2023
NHL Preseason: Nashville Predators v Tampa Bay Lightning - September 27, 2023
Fuerza Regida - September 28, 2023
Thomas Rhett, Cole Swindell and Nate Smith - September 29, 2023
Thomas Rhett, Cole Swindell and Nate Smith - September 30, 2023
Drake and 21 Savage - October 1, 2023
Drake and 21 Savage - October 2, 2023
Ronnie Milsap, Kelly Clarkson and Little Big Town - October 3, 2023
NHL Preseason: Nashville Predators v Carolina Hurricanes - October 5, 2023
Phish - October 6, 7, 8 - 2023
Jonas Brothers - October 9, 2023
Get Bridgestone Arena tickets here
Bridgestone Arena Info
Bridgestone Arena
501 Broadway
Nashville, TN 37203
(615) 770-2000
www.bridgestonearena.com
Show all Concerts in Nashville TN
Bridgestone Arena - Nashville Tennessee
(formerly Sommet Center)

Opened in 1996 at a cost of $144 million dollars, Bridgestone Arena hosts concerts, hockey games, basketball games and trade shows and is probably the most popular venue in Nashville. In the past Bridgestone has hosted such noted artists as "Brooks and Dunn", "Reba McEntire", "Yanni", "Miley Cyrus" as well as many sports and religous events. Keep watching our pages as your favorite artist may be appearing here soon.
Nashville Predators 2023 Tickets, Dates, Times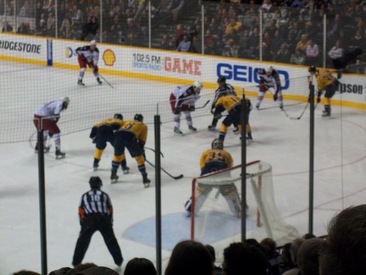 Yeah!! Predators!! get in on all the action!
We have all tickets available for home and away games ...
Hopefully our Nashville Predators will do it again !!
Go see all the Nashville Predators tickets, availability and
cheer the Predators on!!!
Nashville Predators - Don't Miss Them!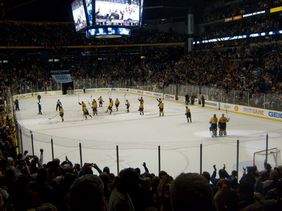 If you have never seen the Nashville Predators,,, get off the couch and go! It's something you can take the entire family to see and everyone enjoys themselves.
My recent visit was Predators against the Columbus Blue Jackets - needless to say A Great Game!! Nashville has this amazing talent for being such a wonderful crowd of supporters for the home team, and the Predators are no exception ... it is only something to witness then you will understand. This game was so close and so many shots came within inches till finally, in the last 15 seconds the Predators scored the winning goal. Totally into it, on the edge of your seat and the Predators delivered. There is so much going on at the game that you will truly enjoy the experience even if you are not a total hockey fan. During the intermissions and game time outs the jumbo tron shows different people from the audience cheering for the home team and that is worth the price of admission.
When you go, take in a restaurant on 2nd avenue first and make a night of it. We parked in Commerce garage and had plenty of time to eat and make the game, and still see a few sights on Broadway in the mix.
Get out of that chair and have some fun! See the Nashville Predators next game!!