Country Music Concerts in Nashville
JAMES WESLEY ANNOUNCES RELEASE OF "YOU SHOULD BE HERE WITH ME" BEHIND THE SONG VIDEO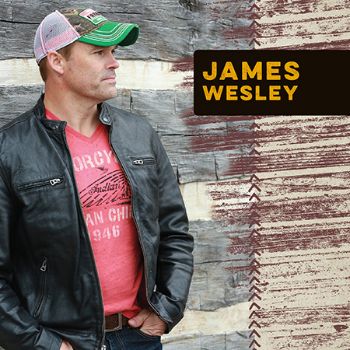 NASHVILLE, TN. - (October 23, 2019) – A touching video in support of his most recent single, "You Should Be Here With Me," has been released by traditional Country music performer and songwriter, James Wesley. The song was penned by Rodney Clawson, Andrew Dorff and Jon McElroy, was recorded previously and never released. Watch the behind the song video on YouTube and Facebook.

The new music can be streamed and downloaded on all online streaming platforms and is available here.

"I have always loved this song and it is the only one I did not write from my current project," exclaims James Wesley! "Andrew Dorff had an incredible way of writing and this song has held a special place in my heart ever since I recorded it."

The song reflects on seeing more than the physical image of another person, encouraging love, trust and the desire to show someone how much you see that others over-look.

Catch James and his band on the road performing at a venue near you soon!

Keep current with James Wesley on his website jameswesleymusic.com and stay in touch with him on all social media platforms Facebook, Twitter, Instagram and YouTube.

Stream and download music on all digital music platforms Google Play, Apple Music / iTunes, Spotify, Amazon Music and more.

About James Wesley:
Country singer/songwriter James Wesley was born and raised in Mound Valley, Kansas. James was signed to Warner Bros. in 1999 as James Prosser, he released one album Life Goes On before adopting the Wesley moniker. After relocating to Nashville, Wesley hooked up with songwriter Rodney Clawson and producer Dan Frizzell, inked a deal with Broken Bow Records, and released the single "Jackson Hole." The song debuted at #41 on the Billboard Hot Country Songs charts, and was followed in 2010 by a second single, "Real" that topped the charts at #22, followed by "Didn't I" at #24 In 2011. James found a new level of exposure when he was the opening act for two weeks of superstar Taylor Swift's Speak Now tour. He continued touring and more singles followed in anticipation for Wesley's debut album, Real, including "Walking Contradiction," "Thank A Farmer" and "Hooked Up" which appeared in 2012, 2013 and 2015. James continues touring and playing corporate events across the country. One of the highlights of James Career, was being asked to be a part of the Merle Haggard tribute album titled "Working Man's Poet", (Released in April of 2014). The two "Hag" songs performed by James, were "I'm a Lonesome Fugitive" and "The Fightin' Side of me".​
Franklin Theatre - Concerts 2019
Franklin Theatre, 419 Main Street, Franklin, TN 37064 - (615) 538-2075
The Kingston Trio - November 8, 2019
Karla Bonoff - November 9, 2019
JD Souther - November 14, 2019
Kathy Mattea - November 15, 2019
Night of Worship with Travis Cottrell - November 17, 2019
The Black Lillies - November 22, 2019
Mandy Barnett's Winter Wonderland - November 23, 2019
Steve Wariner Solo Acoustic - November 24, 2019
Tim Rushlow & His Big Band - "Home for the Holidays" - December 2, 3, 4 - 2019
Doyle Lawson & Quicksilver - December 6, 2019
Louis York and the Shindellas - December 7, 2019
Christy and Nathan Nockels present - Night of Hope: A Family Christmas - December 8, 2019
David Archuleta Christmas Show - December 11, 12 - 2019
Over the Rhine Christmas - December 13, 2019
BeauSoleil Cajun Christmas avec Michael Doucet - December 18, 2019
Exile Christmas - December 19, 2019
The Gatlin Brothers - Country & Christmas - December 20, 21 - 2019
Gary Morris - December 27, 2019
Lee Roy Parnell & Friends - December 28, 2019
Gateway Chamber Orchestra: Gran Partita - January 27, 2020
Gateway Chamber Orchestra: America's Haydn Festival - April 6, 2020
Times and dates are subject to change so visit their website before attending these Concerts in Franklin, TN
Pucketts Grocery & Restuarant - Concerts
Pucketts Grocery & Restaurant, 500 Church Street, Nashville, TN 37219 - Phone (615) 770-2772

Some acts have a cover charge and some do not..... check their website for more info....

Live Entertainment at Pucketts includes:

2019 Concerts
Olivia Faye - October 30, 2019
Anthony Michael - October 31, 2019
This is not the complete list of entertainment, some shows have a cover charge and some don't, see, their website for more information and enjoy the show

Concerts may be subject to change.
Music City Roots Concerts at the Factory
Music City Roots is a weekly Concert and live Radio show at the Factory at Franklin
Upcoming Shows:
no concerts listed at the time of this update.....
'To get tickets or to learn more about the Music City Roots Concert and Live Radio show visit their website and enjoy!
Midnite Jamboree - Country Music Concerts - Free Concerts
Texas Troubadour Theatre, 2416 Music Valley Drive, Nashville, TN - (615) 889-2474

If you enjoy the Grand Ole Opry, you'll probably like the Midnite Jamboree ...

Take a look at some of the upcoming artists and concerts ...

2019 - Events and Concerts
October 26, 2019 - Jesse McReynolds
November 2, 2019 - Leona Williams
November 9, 2019 - Riders In The Sky
November 16, 2019 - Salute to steel guitar w/ Lynn Owsley & Guests
November 23, 2049 - Margie Singleton
Free Admission every Saturday night ......We invite you to be a part of the live audience Saturday night at 10pm. Admission is free at the Texas Troubadour Theatre. Phone 615-255-7503 please call the week of the show. All shows and artists are subject to change so call ahead to make sure who is playing.
This is only a partial list of the acts performing. Artists are subject to change so see their website or call before visiting and enjoy these Concerts in Nashville

The Midnight Jamboree also shows archived shows which we do not report.

(Caution: We just went to one of the shows in March and the artist listed on their website was not the artist performing, so definitely call before you go to make sure of the artist performing)
Station Inn - Country & Bluegrass Concerts
Station Inn, 402 12th Avenue S, Nashville, TN 37203 (615) 255-3307
Here's part of their concert schedule:
Bluegrass Jam on Sundays!
"New Monday with Val Storey" on Mondays
------------------------------------------------------------
Kelsey Waldon - November 1, 2019
Theo & Brenna Macmillin - November 2, 2019
Gospel Music at Station Inn - November 3, 2019
Bluegrass Jam - November 3, 2019
Dan Tyminski BG Band - November 5, 2019
Becky Buller Band - November 7, 2019
Dale Ann Bradley Band - November 8, 2019
Special Consensus - November 9, 2019
Gospel Music at Station Inn - November 10, 2019
Bluegrass Jam - November 10, 2019
This is just a partial list of the concerts happening at the Station Inn, check out the complete schedule and the cover charges on their website and enjoy these Concerts In Nashville
Grand Ole Opry House
Nashville, TN- Grand Ole Opry
The Grand Ole Opry is the cornerstone of Country Music and a visit to the Music City would not be complete without seeing a Grand Ole Opry show ... we have the tickets! now it's up to you to attend and enjoy a landmark in Country Music - The Grand Ole Opry.
2019 Grand Ole Opry - at the Grand Ole Opry House
Rudolph The Red Nosed Reindeer - Playing at the Grand Ole Opry House from:
November 16, 2019 to December 27, 2019
John Prine - December 31, 2019
C'Ya On The Flipside - February 5, 2020
Grand Ole Opry with Brad Upton, High Valley - February 7, 2020
Grand Ole Opry with Brad Upton - February 8, 2020
Grand Ole Opry with Jimmie Allen - February 11, 2020
Dancing With The Stars - February 16, 2020
See more dates for "The Grand Ole Opry" by clicking the link below and Enjoy the Show!!
Click here to get tickets to Grand Ole Opry Concerts in Nashville TN